NF-κB inducing kinase (NIK) Novel target for cholangiocarcinoma
Background / Context / Abstract:
 Although cholangiocarcinoma is about 15% of primary liver cancers, it is often found in advanced stages and has a poor prognosis. The only approved drugs for the treatment of cholangiocarcinoma are cytotoxic anticancer agents, and it is necessary to develop molecular targeted drugs. However, the origin of cholangiocarcinoma has not been clearly determined, although intrahepatic cholangiocytes, mature hepatocytes, and hepatic progenitor cells have been proposed.
 The inventors have previously found inactive mutations of the Traf3 gene in hepatocarcinoma expressing bile duct components by liver-specific transposon mutation insertion screening. They also found that hepatocyte specific Traf3 gene deletion promotes differentiation from hepatocytes into cholangiocytes, resulting in spontaneous development of intrahepatic cholangiocarcinoma.
 Furthermore, we searched for the molecule that executes this Traf3 inactivation-induced differentiation and found that the expression of NF-κB inducing kinase (NIK) molecule markedly increased with the progression of the disease, and that NIK inhibitors and siRNA suppressed the differentiation and the growth of cholangiocarcinoma.
Publication(s)
 Yuto Shiode,

Takahiro Kodama

, et al., Hepatology (First published: 07 January 2022)
"TNF receptor–related factor 3 inactivation promotes the development of intrahepatic cholangiocarcinoma through NF-κB-inducing kinase–mediated hepatocyte transdifferentiation."
(DOI) https://doi.org/10.1002/hep.32317
Expectations
We are looking for companies that are willing to collaborate with us from screening to development of inhibitors for NIK, a novel molecular target for cholangiocarcinoma. In particular, we are looking forward to collaborating with companies that focus on the development of kinase inhibitors or companies that already have candidates for the development of NIK inhibitors. We are also looking forward to licensing and co-development with companies that develop nucleic acid drugs, as this target has potential for development of nucleic acid drugs.
Technology Overview:
Molecular targeted drugs targeting the NIK associated with the differentiation factor from hepatocytes to cholangiocarcinoma.
Benefits:
Advantages
A molecular targeted therapy based on the origin of cholangiocarcinoma and the mechanism of its differentiation into tumor revealed for the first time
Development of therapies combined with biomarkers for highly malignant Traf3 low/NIK high type cholangiocarcinoma is possible.
Potential Applications / Potential Markets:
Therapeutic agent for cholangiocarcinoma.
State of Development / Opportunity / Seeking:
・Available for exclusive and non-exclusive licensing
・Exclusive/non-exclusive evaluation for defined period (set up for options)
・Collaborative/supportive research
※Seeking
1. Development partner
2. Licensing 
IP Status:
Applied in Japan, not yet published
Figures:
Data
Administration of NIK inhibitor to liver specific Traf3/Pten DKO mice, a spontaneous model of intrahepatic cholangiocarcinoma, suppressed their differentiation into cholangiocytes
Treatment of a Xenograft model of a human cholangiocarcinoma cell line (HuCCT1) with a NIK inhibitor (NIK SMI: Upper panel) and siRNA for NIK (NIK KD: Lower panel) suppressed tumor growth (Ki67-positive cells).
There was an inverse correlation between TRAF3 expression and NIK expression in cholangiocarcinoma patients, and patients in the high NIK group had a worse prognosis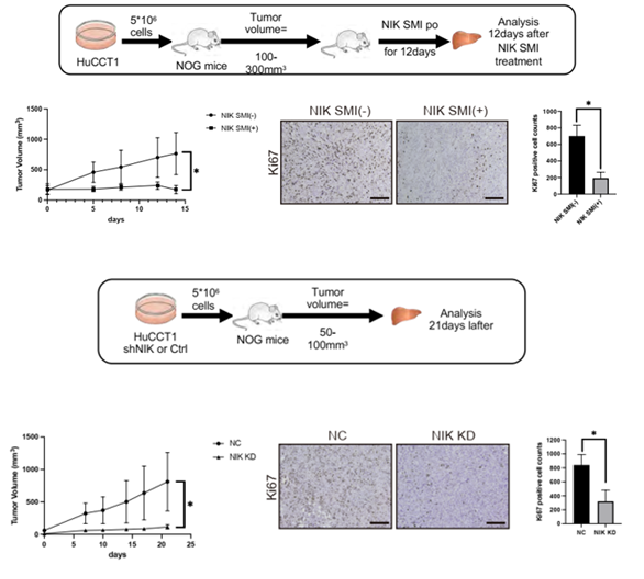 Contact: