Activity Policy
The Co-Creation Bureau proactively promotes "co-creative" activities that generate new forms of value combining knowledge and power of society and the university. Under the OU Vision 2021 the Bureau is working to create a "Research and Development Ecosystem" whereby, in the course of applying research findings in wider society, new problems and research challenges are fed back to researchers, producing new findings that are once again applied in society.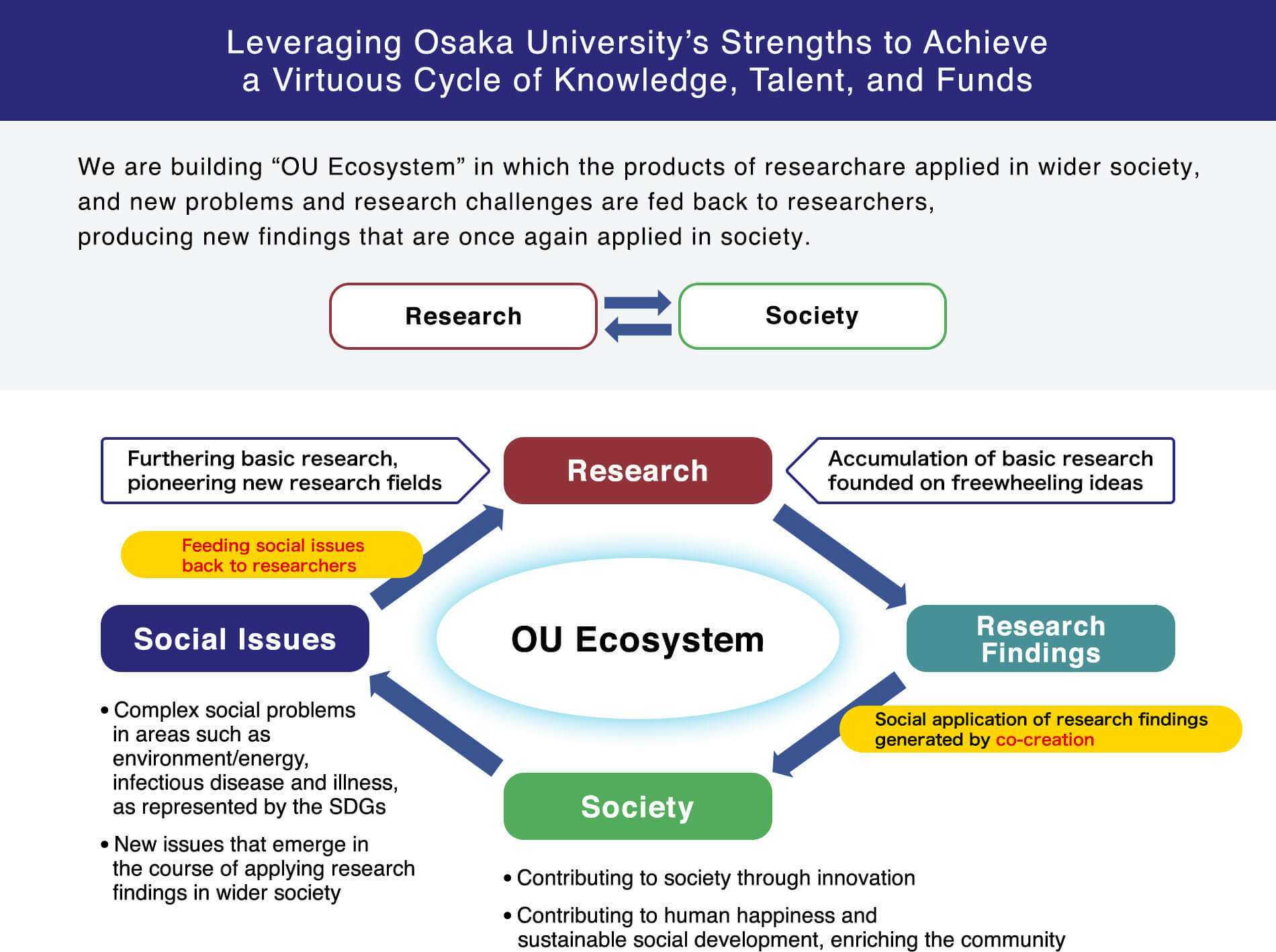 To date, industry-academia collaboration has taken the form of "corporate-initiated" joint research conducted in accordance with the needs of companies, and "university-led" projects that advance the university's basic research activities. In addition to these types, the Bureau is promoting "co-creative" projects that involve new collaborations between the university and industry to explore needs, mobilize research seeds, and strengthen partnerships.
As part of its "co-creative" initiatives, the Bureau has moved ahead of other universities across Japan to establish Joint Research Chairs/Division in which a laboratory of the university and a department of a company systematically engage, and Research Alliance Laboratories that involve the pursuit of interdisciplinary, multifaceted projects at corporate research institutes that are hosted within the university (Industry on Campus). These systems foster industry-academia collaborative activities and the cultivation of talent through them.
These "co-creative" initiatives enable the development of a "Research and Development Ecosystem" in which research findings are applied in wider society, social issues are identified through verification of these applications by individuals and communities, and information thereon is gathered, analyzed, and fed back to researchers, who then conduct further basic research, open up new fields of inquiry, and generate innovations. This allows society to benefit from the university's outstanding research output, creates new values, contributes to the resolution of social issues, and aids the advancement of a sustainable human society.