CKAP4-targeted Cancer Therapy
Anti-CKAP4 antibody inhibited proliferation of DKK1- and CKAP4-expressing cancer cells
Key Word : Cancer, Oncology, Antibody, Antisense, RNAi
Background / Context / Abstract:
Dickkopf1 (DKK1) is a secretory protein that antagonizes oncogenic Wnt signaling by binding to the Wnt coreceptor Low density lipoprotein receptor–related protein 6 (LRP6). It has been shown to suppress tumorigenesis in some cancer cells, however, it is also upregulated in many types of cancer and associated with poor prognosis. Wnt-independent mechanisms by which DKK1 promotes cancer cell proliferation are not well understood.
Technology Overview:
In this study, researchers identified cytoskeleton-associated protein 4 (CKAP4) as a novel DKK1-binding protein, by using mass spectrometry analyses and immune sedimentation, and found that it is a new therapeutic target. CKAP4 was detected in tumor lesions of 66–74% of pancreatic and lung cancer cases. The researchers demonstrated that DKK1 interacts with CKAP4 to promote activation of AKT, and CKAP4 specifically regulate tumor cell proliferation by DKK1. They also showed that suppressing of CKAP4 gene expression or function by shRNAs or antibodies inhibits proliferation of tumor cells.
Benefits:
Anti-CKAP4 antibody has been obtained.
Tumor suppressing effects were found for both pancreatic and lung cancer in mouse xenograft model by using anti-CKAP4 antibodies or shRNAs.
Further Details:
Researchers specified DKK1 binding region on CKAP4, and now they are studying the details by using CKAP4 antibody.
The role of CKAP4 expression in tumorigenesis in vivo was investigated by s.c. implantation of pancreatic or lung cancer cells into the flanks of immunodeficient mice. Anti-CKAP4 antibody inhibited proliferation of these cancer cells, and the volumes and weights of the xenograft tumors decreased.
The details of shRNA and antibody studies were published:H. Kimura, A. Kikuchi, et al., J. Clin. Invest. 2016;126(7): 2689–2705.
Potential Applications / Potential Markets:
・Potential treatment for pancreatic and lung cancer
State of Development / Opportunity / Seeking:
・Available for exclusive and non-exclusive licensing
・Exclusive/non-exclusive evaluation for defined period (set up for options)
・Collaborative/supportive research
IP Status:
WO 2016/136372(National phase: EP, US, JP-DIV, CA, CN and Issued: JP)
Figures: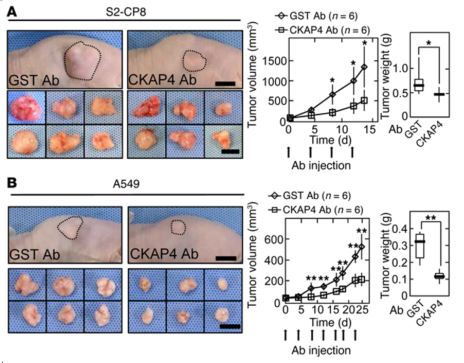 Fig. Antiproliferative effect of anti-CKAP4 antibody on DKK1- and CKAP4-expressing cancer cells. S2-CP8 (pancreatic cancer) cells (A) and A549 (lung cancer) cells (B) were implanted s.c. into immunodeficient mice. Anti-CKAP4 or GST Abs (150 μg/body, n = 6) were injected into the intraperitoneal cavity twice per week.
Contact: